Window Safety Week 2021
Posted on April 2nd, 2021 at 11:30 AM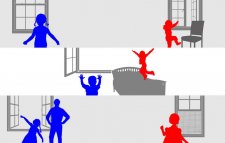 Seaway Manufacturing joins several industry associations and the National Safety Council in observing Window Safety Week. First observed in 1997, Window Safety Week runs from April 4 through April 9 this year.
Early April is a time when many begin to open windows for greater ventilation, and this can create safety hazards, especially for children. Window Safety Week has a dual focus on window safety and fall prevention as well as educating family members on the operation of windows as an escape route in the event of an emergency.
The Window Safety Task Force offers these tips:
Avoid the placement of furniture near windows to prevent children from climbing

Do not rely on insect screens to prevent a window fall

Keep children's play away from open windows and doors

Install building code-compliant devices designed to limit how far a window will open or window guards with release mechanisms to help prevent a fall

Teach your child how to safely use a window to escape during an emergency
More information on Window Safety Week, including a children's activity workbook, is available from the NSC website.