Custom Window Designs | Seaway Manufacturing
Your Seaway Windows Can Be As Unique As You
Choose the glass, grid and color options for your Seaway windows that are best for you and your home. When customizing your windows, the possibilities are nearly endless. The flexibility of our window designs and the ability to integrate any design and size into your home allows for optimum cost-effectiveness and energy efficiency.
The choice is truly yours – style, size, shape, color and an assortment of grid styles will provide a look exclusively designed for your home.
Start customizing your windows today!
Style Options
Grid Styles
Available in the following shapes and colors: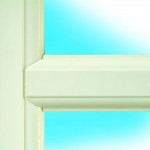 Simulated Divided Lites for Seaway's Encore Collection of Windows
Simulated divided lites (SDL's) further distinguish your home, giving your windows and even more authentic, traditional wood look. SDL's are offered in white, beige, woodgrain, and also in our Stylux standard exterior coating collection. SDL's are available in all styles of Seaway's Encore collection windows only and can be ordered in colonial or prairie patterns.
Color Options
Stylux Designer Color Collection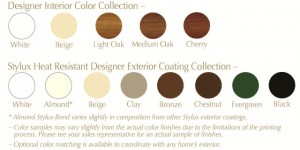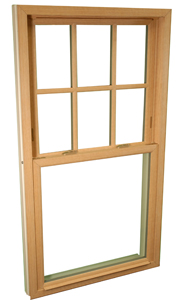 WoodEssence Stainable Paintable Option for Seaway's Encore Collection of Windows
Attain the traditional aesthetics and elegance of authentic wood windows without the countless maintenance hassles.
WoodEssence is a wood grain laminate designed to give you the opportunity to either stain or paint the interior of your windows, achieving an exact color match with your interior trim or a complimentary color scheme to coordinate with your home's décor.
Shhh… it will be our secret. Your friends and neighbors will be envious of your beautiful "wood" windows, and the best part? You won't have to do anything to keep them beautiful.
Encore's WoodEssence…the best-kept secret.
Shape Options
Specialty Shaped Windows
Specialty shaped window styles are also available to add uniqueness or special interest to a specific area of your home.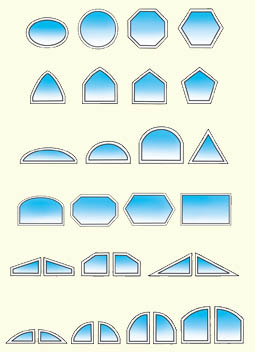 Glass Enhancement Options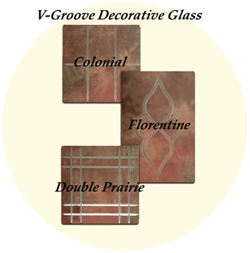 Decorative V-Groove Glass Enhancement Options
V-groove glass is available in polished, frosted, or shadow bevel finish for Seaway's Encore and Ovation window collections. Obscure, bronze-tinted, and tempered safety glass is available for all Seaway's window collections.