What Are "Vinyl" Windows Made Of? Look Into Your Windows
Posted on July 21st, 2016 at 1:17 PM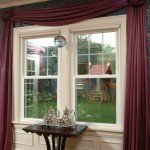 Seaway Manufacturing of Erie, PA, manufacturer of residential replacement windows, patio doors and sunrooms, presents "Look Into Your Windows," an educational series designed to answer the most frequent questions about choosing replacement windows for your home. In this installment, we address one of the first and most important considerations: what are windows made of?
Choosing replacement windows can present a dizzying array of options, beginning with the decision of what type of window to choose: windows are available in wood, metal, vinyl, fiberglass and any number of proprietary brand names for the same materials.
About two-thirds of replacement windows sold today have sashes and frames made of vinyl, with the word "vinyl" being shorthand for polyvinyl chloride (PVC). There are many good reasons for this: unlike wood, vinyl doesn't rot or need painting. Vinyl insulates much better than any metal, and advancements in manufacturing technology allow vinyl windows to offer unmatched strength, durability and energy efficiency.
Early vinyl windows, and some lower-end choices still sold today, had a few disadvantages: the vinyl itself had an unnatural blue-white color that just didn't look attractive on most homes. Some were made of recycled vinyl (or "regrind"), which was less durable and prone to discoloration. And some were mechanically fastened; that is, the frames were assembled with screws or other fasteners that could come loose over time.
Higher-quality modern windows answer these early drawbacks in a few ways: first, better-quality vinyl windows are now made with uPVC sashes and frames. The "u" stands for "unplasticized," and the result is a material that's stronger, more durable, more resistant to discoloring and corrosion, and easier to clean. The uPVC material is formed into multi-chamber extrusions for both greater strength and better energy-efficiency, and then those extrusions are fusion-welded (not mechanically fastened) together to create a window sized exactly for the opening. One or more of the chambers in the extrusion may be filled with foam for even greater insulating properties.
Look for uPVC windows with a natural color and an attractive profile. The best vinyl windows will resemble a freshly-painted wood window from the outside, but without all the painting and other maintenance associated with wood. Woodgrain, laminates, etc.
Questions about replacement windows? Contact Seaway Manufacturing, or click here to find a Seaway dealer in your area