Ready for Your Screen Test? All About Window Screens
Posted on October 17th, 2016 at 4:11 PM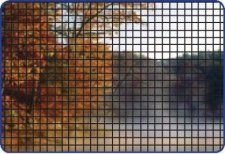 Seaway Manufacturing of Erie, PA, manufacturer of residential replacement windows, patio doors and sunrooms, presents "Look Into Your Windows," an educational series designed to answer the most frequent questions about choosing replacement windows for your home. In this installment, a look at window screens.
We briefly touched on window screens in the last installment on double-hung windows, but screens are one of the most-overlooked components of a window, and they're worthy of a little more attention.
If you've had a window demonstration in your home or in a showroom, the screens were probably barely mentioned, if at all. Windows have screens. Screens keep bugs out. The end. Right?
Yes and no. Screens keep bugs out, yes. But the wrong screens keep too much air and light out as well. Newer screen designs offer more effective bug protection while allowing more light and air to flow through, and those are the main reasons to have your windows open in the first place: more air and a better view of the outdoors.
Consider not just the screening material but the frame that holds it in place. In many windows, this is a flimsy afterthought, prone to bending out of shape over time. Look for construction that's just as sturdy as the rest of the window.
Double-hung windows have half-screens that cover the bottom sash area and lift up and down. Occasionally, a customer will request full screens; that is, screens that cover the entire window so the top sash can be lowered as well. Just bear in mind that a full screen is fixed in place and is a little harder to remove should you need to in order to reach outside. With casement or awning windows, the screen will always cover the entire opening.
Here's what screens won't do: they won't prevent children or pets from falling out, so you'll need to be vigilant in those situations. Use the window's limit latches or safety latches to limit the opening of the window and prevent accidental falls. Screens also won't keep someone from breaking in. A quality window has many security features, but the screen is not one of them. Take any claims of "locking screens" with a huge grain of salt.
Questions about replacement windows? Contact Seaway Manufacturing, or click here to find a Seaway dealer in your area