Patrick Goodrich Promoted to COO of Seaway Manufacturing
Posted on May 20th, 2019 at 11:18 AM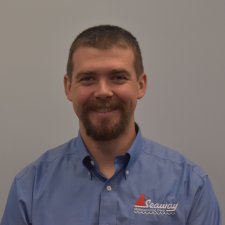 Seaway Manufacturing Corporation of Erie, Pennsylvania, today announced the promotion of Patrick Goodrich to the position of Chief Operating Officer, effective immediately.

Most recently Seaway's Vice President of Operations, Goodrich has served in a wide array of capacities in the Seaway organization, beginning as a floor sweeper during his childhood.

After serving as an installer through his college years, Goodrich graduated with a Bachelor of Science degree in Mechanical Engineering from Worcester Polytechnic Institute. He then worked as an Applications Engineer for a Fortune 500 company, learning many Six Sigma and lean protocols including a Green Belt certification. He next spent two years supporting the window, door and glass industries as an Application Engineer for Fenetech.

Since returning to Seaway, Goodrich has steadily taken on increased responsibilities, first as an Operations Engineer, then as Operations Manager and Vice President of Operations.

Seaway Manufacturing President and CEO, Jana Goodrich, commented: "At each step of his Seaway career, Patrick has excelled, and has earned the respect of the Seaway team as well as our clients and vendors. This new title really reflects what he has already been doing for the past two years. Patrick and I have worked closely together on nearly every aspect of Seaway's business from operations to marketing to strategic direction." "We're confident that Patrick's well-rounded background will serve him well in his new role," Jana Goodrich continued, "and we are very gratified to continue the unbroken, six-decade tradition of Goodrich family stewardship at Seaway Manufacturing."
"It's a huge honor to have the opportunity to be a part of not only our family legacy, but a longstanding tradition of American-based manufacturing," said Patrick Goodrich. "I feel my engineering background has prepared me well for the opportunities that lie ahead, and I look forward to continuing the evolution of Seaway with our dedicated team."

Established in Erie in 1959 and celebrating its 60th anniversary this year, Seaway Manufacturing continues to earn accolades from customers for its industry-leading home-improvement products, including vinyl replacement windows, patio doors and sunrooms. Seaway provides its products through a wide network of specialty home improvement dealers in the Eastern and Midwest United States.