US Energy Secretary Discusses Energy Tax Credit During Seaway Visit
Posted on March 29th, 2010 at 2:04 PM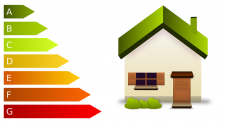 The Secretary of Energy, Dr. Stephen Chu and Congresswoman Kathleen Dahlkemper visited Seaway Manufacturing Corp. on March 26, 2010, to meet with the owners and several employees, tour the plant, and give brief comments.
Plant Manager Paul Gleichsner, Secretary Chu, and Congresswoman Dahlkemper
The Secretary and Congresswoman arrived at approximately 9:45 a.m., first had a private meeting with Seaway's President, Jana Goodrich; CEO, Michael Goodrich; several key management personnel, and Seaway's retail division, Seaway Window's, managing partners; to discuss Seaway's energy efficient and tax credit compliant product offering. They then took part in a tour of Seaway's manufacturing plant to view production. At the conclusion of the tour, both the Congresswoman and the Secretary made comments to the media and the Seaway family of employees.
Seaway President, Jana Goodrich, directed her comments to the Secretary and the Congresswoman, "It is a credit to your efforts and this administration that has so aggressively pursued making energy efficient home improvements more desirable and affordable for more Americans. We truly appreciate your interest in our company and our products, and the current administration's efforts to promote energy efficient products through tax incentives and rebates. It's good for the industry, good for the country, and the tax incentives and rebates help us to provide more jobs and to ensure job security for our employees and their families."
Congresswoman Dahlkemper spoke about the benefit of the Energy Tax Credit for windows in the Reinvestment and Recovery Act of 2009. "Thanks to the Recovery Act, homeowners can save as much as $1,500 in tax credits for energy improvements—a major savings for families. With quality, energy efficient products made right here in Erie, homeowners in our region can save money and support local businesses at the same time," said Rep. Dahlkemper. "Western Pennsylvania boasts an innovative and hardworking manufacturing base; our region is poised to be a leader in new energy technologies."
Secretary Chu also spoke of the benefits of the tax credits for windows, as well as other energy saving investments we can make in our homes. According to Secretary Chu, these tax credits have helped businesses like Seaway survive these difficult economic times and the goal of the incentives and rebates is to "take the pain out of energy efficient home improvements." The Department of Energy and the current administration are promoting new technologies to help save energy and create jobs.
The Secretary and Congresswoman chose to visit Seaway because of Seaway's reputation for building high quality, energy efficient windows and doors that comply with the Energy Tax Credit. They were very interested in Seaway as a family owned and family oriented business for over 50 years, and discussed how Seaway competed successfully against the much larger and more nationally visible window manufacturers. Seaway employees cited the strong marketing support and education they provide to their customers, and their pride in the products they manufacture, paying conscientious attention to detail in order to ensure superior craftsmanship, unsurpassed customer service, and cutting-edge, energy efficient products as the keys to their success.