Seaway Introduces New Casement and Awning Windows!
Posted on December 2nd, 2014 at 1:21 PM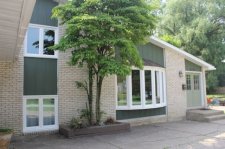 Seaway Manufacturing Designs New Casement and Awning Windows
Lighthouse and Commander Series Introduced
ERIE, PA – December 2, 2014 – Seaway Manufacturing Corporation recently announced the addition of two new lines of vinyl casement and awning windows to its product family.
The Lighthouse and Commander series from Seaway bring big improvements in both appearance and technology to a growing sector of the window industry.
"We are very proud of these new products, which represent a great deal of innovation in this sector," said Seaway President Jana Goodrich. "More and more homeowners are choosing the better views and greater ventilation of casement and awning windows, and we've answered this need with cutting-edge products that are both more attractive and better-performing than ever before."
A manufacturer of exceptional-quality vinyl replacement windows, doors and sunrooms, Seaway has been a fixture in Erie, PA since its beginnings in 1959, and celebrated its 55th anniversary earlier this year. Today, Seaway remains family owned and operated, supplying remodeling contractors in more than 20 states with energy-efficient building components. Seaway continues to be a major employer of Erie-area residents as well.
Seaway Manufacturing began operations in 1959 as a fabricator of aluminum products, including storm doors and windows. "There are so many interesting chapters in the Seaway story," Goodrich continued, "from my father-in-law's founding of the business to today, when Seaway is a woman-run company in an industry that is very much male-dominated. Through all of that, through the addition of vinyl products and countless technological innovations, Seaway has remained a steady provider of employment in Erie and has improved countless thousands of homes. We're even more pleased to say that we can look ahead to our third generation of family stewardship since the addition of our son, Patrick, to the Seaway team several years ago."
"We have always worked hard at Seaway to be at the leading edge of innovation, focusing on the quality and value that homeowners demand," Goodrich continued. "The Lighthouse and Commander product families continue that tradition, combining unique aesthetics with groundbreaking features and performance characteristics. Our customers tell us they are simply the best-looking windows in their category."