Is a Sunroom a DIY Project?
Posted on August 7th, 2014 at 1:51 PM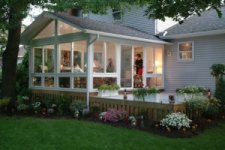 Seaway Manufacturing is a proud and active member of the National Sunroom Association. Below is an article we developed for the NSA regarding do-it-yourself construction of sunrooms.
The explosive popularity of remodeling reality shows on TV combined with the advent of the "big box" home improvement store has led to a boom in do-it-yourself (DIY) projects. Homeowners feel better equipped and informed to tackle more projects themselves than ever before. But what about a sunroom?
Although there may be exceptions, most commonly, sunrooms are not a DIY project. There are "sunroom" products with a wide variety of materials, intended uses, project complexities, and required skill levels for installation. There is a big difference, however, between installing screens between the posts of an existing covered porch or deck and the construction of an entire sunroom.
In general, an average homeowner will not have the necessary construction background or training to install a sunroom properly for long term success, performance, and enjoyment. Some of the important aspects of sunroom construction include skill level, understanding of building codes, ability to tie in to existing construction, selecting and preparing the building surface as required, and overall safety, none of which are best left to the inexperienced renovator.
With regard to skill level, depending on the product being constructed, there are many elements of a sunroom that require more than just a cursory knowledge or understanding of general construction. Besides the need to choose the most appropriate materials and products for the desired use, there can be foundation preparation (or construction if none exists); the actual construction of the sunroom (whether conventional wood frame or a pre-engineered system); structural connections of the sunroom roof, walls, and other key elements to the existing structure/foundation or to each other; the proper flashing of key areas for weather protection; reading & understanding engineering blueprints to ensure all components, fasteners, and structural elements are correctly used; and proper wiring (if electrifying the sunroom).
Another vital consideration is an understanding of the governing building, energy and electrical codes, as well as any special building requirements for your local municipality. Sunrooms will require a building permit in most jurisdictions, so the DIY'er will need to be familiar with what is required, acceptable, and good practice in that municipality in order to get a permit approved, and to secure a successful final inspection where required. If you think building a sunroom is a challenge, try doing it twice because the first effort didn't meet local codes.
Finally, consider your overall safety during the project, as well as the durability and safety of the completed structure. If you are not comfortable using power tools, climbing on roofs, working on a ladder, or you don't have people to help you, you could very easily be a danger to your own personal safety. Likewise, an under-designed, or improperly constructed/installed sunroom can be dangerous to the occupants. The money saved up front in construction may be far outweighed by the liability, property or personal damage, and rework costs that result from less than expert construction at the outset, and a project done unprofessionally could have a very negative impact on the value of the home and property.